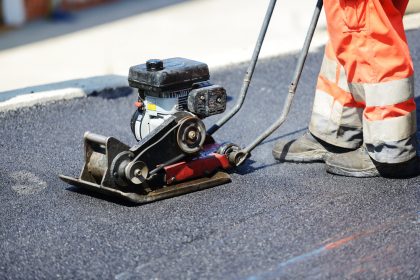 Parking lots are an essential part of every business's property, no matter what your industry or size. They provide a place for customers to park their cars while visiting your establishment. A good parking lot should allow easy access in and out with plenty of space for everyone to find a spot without being too crowded or cramped. And most importantly, you need that space to be level so that drivers can easily maneuver into spaces without worrying about hitting potholes or uneven ground. Here are five signs that the time has come for you to have your parking lot repaved.
1. Cracks
A parking lot full of potholes is not only bad for business and the cars that travel on it, but also dangerous. A customer or client trying to park might hit a big enough hole and either damage their vehicle or hurt themselves in the process. It's an expense no one wants to deal with. Cracked pavement can be due to various reasons, but you should call paving contractors immediately once you notice the cracks.
2. Surface Is Badly Stained
If your lot has become severely stained, this can be another sign that the time has come to have it repaved. This staining can occur due to oil or other types of grime that cars drip or leak. Although tree sap, which creates brown-colored stains, isn't as big a problem in parking lots as it is for driveways, you should have it removed immediately so that the lot stays looking clean and professional.
3. Faded Striping
If your striping, also known as the painted lines that indicate where cars need to drive and park, has become faded or too faint, it's time for repaving. Not only will fresh striping look more appealing than faded or barely visible lines, but it can ensure that all customers can clearly see where they should be driving and parking.
4. Water Puddles When It Rains
If water puddles in your parking lot, something must be done. The last thing you want is for customers to get their shoes wet when they walk to their cars on a rainy day. If left unattended, puddling water can cause big problems for your parking lot, including potholes and sinking ground. After you bring in a paver professional to remove the puddles and correct the drainage issue, consider applying an asphalt sealant to prevent future puddling.
5. Parking Lot Is Tilted and Uneven
If you start to notice that some areas of your lot are noticeably higher than others, this means there is a problem with your paving. Even if it appears level from far away, when you get close up on the lot, areas may be higher than others and at different heights. This is a sign that you need to contact a paving company right away to fix the issue before it becomes too big of a problem for your drivers.
With proper maintenance, an asphalt parking lot has the potential to last 30 years. But, as soon as you notice one or more of these signs, it's time to have your parking lot repaved. Timely repairs can prevent a small problem from becoming a big headache for your entire company and employees, who rely on the parking lot daily. Allowing problems to go untreated is bad for business and dangerous because of the increased risk of accidents and injuries for drivers. Do not wait until the situation has become too severe before acting, as it will only cost you more money in the long run.